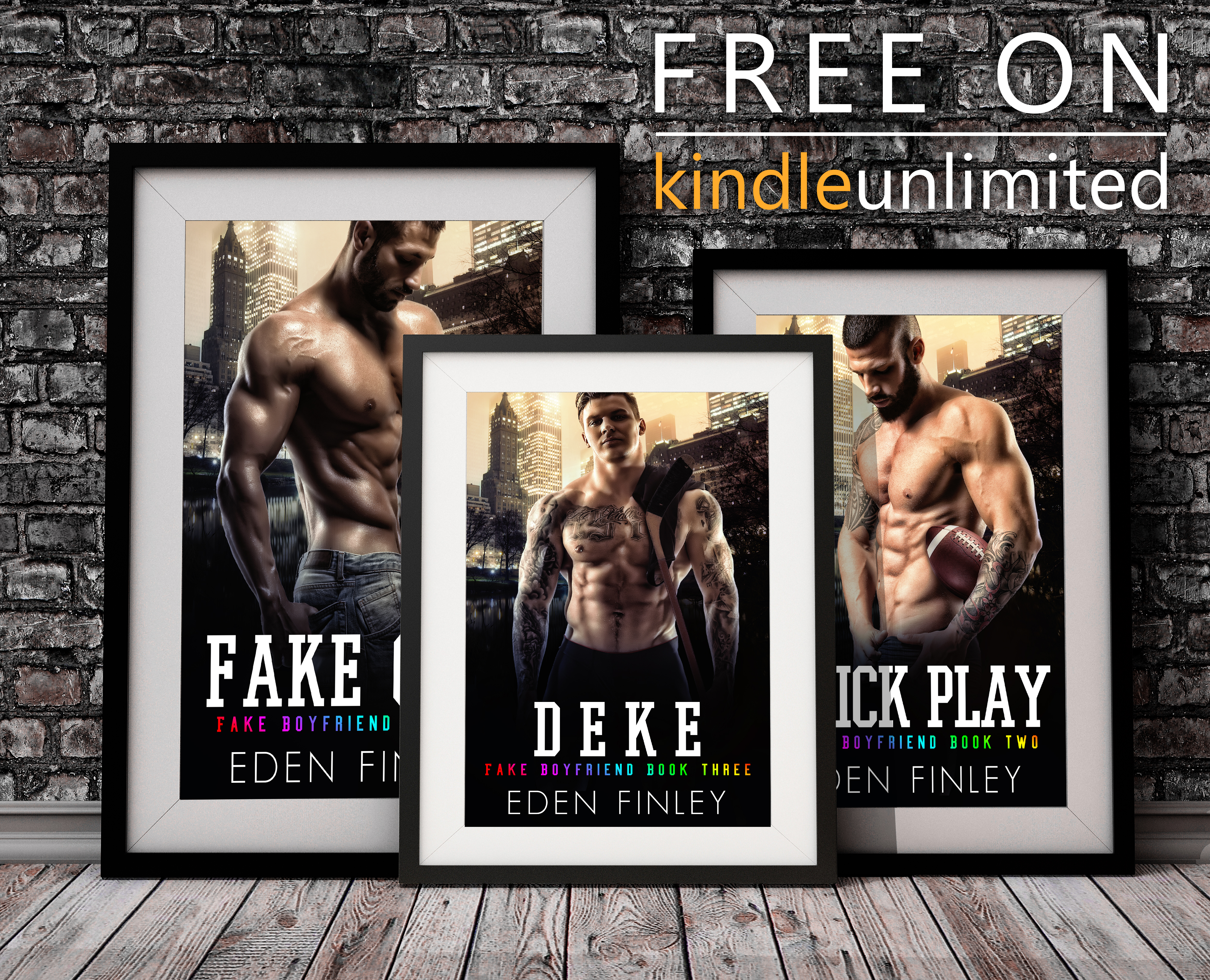 Fake Out. Fake Boyfriend Book 1.
Maddox
The reason I rarely go home is three simple words: I'm a liar.
When the pressure to marry my childhood sweetheart became too much, I told her I was gay and then fled to New York like my ass was on fire.
Now, five years later and after a drunken encounter, I find myself invited to her wedding. And I have to bring my boyfriend--the boyfriend who doesn't exist because I'm straight.
At least, I think I am. Meeting the guy I'm bribing to be my boyfriend for the weekend makes me question everything about myself.
Damon
When my sister asks me to pretend to be some straight guy's boyfriend, my automatic response is to say no. It's because of guys like him people don't believe me when I tell them I'm gay.
But Maddox has something I need.
After an injury that cost me my baseball career, I'm trying to leave my playing days behind and focus on being the best sports agent I can be. Forty-eight hours with my sister's best friend in exchange for a meeting with a possible client. I can do this.
I just wish he wasn't so hot. Or that he didn't kiss like he means it.
Wait ... why is the straight guy kissing me?
*Fake Out is a full-length MM novel with no cliffhanger.*
Trick Play. Fake Boyfriend Book 2.
Matt:
Want to know the fastest way to get screwed out of a football career? Get photographed in a compromising position in a gay bar. Yep, welcome to my life.
My agent says he can fix my image. He wants me to become the poster boy for gay football players. Me? I just want back on the field. I'll do anything to play for the NFL again, even pretend to have a steady boyfriend. If only my fake boyfriend wasn't Noah Huntington III--the most arrogant, entitled rich guy in the world.
Noah:
Pretend to be Matt Jackson's boyfriend, my best friend said. It'll be fun, he said. What Damon neglected to mention is Matt is surly and bitter. Being his boyfriend is a job in itself. From his paranoia over being constantly photographed to his aversion to PDA, being with Matt isn't the care-free fake relationship I expected when I signed on to do this.
It's supposed to be a win-win. I get to stick it to my politician dad who thinks no one is good enough for the Huntington name, and Matt's reputation of being the bad boy of football dies.
What I don't expect is to start caring for the guy. That's not part of the plan. Then again, neither is fooling around with him.
Oops.
**Trick Play is a full-length MM novel with a HFN/HEA and no cliffhanger**
Deke. Fake Boyfriend Book 3.
Ollie 
Word of advice: don't come out to random guys in public restrooms. Even if they're charming and adorably nerdy and offer to help.
My family believe I can't be happy if I'm not out to the world. I have a bitter ex-boyfriend and an unstable NHL career to show for it. A fake boyfriend seems like an easy and quick solution to get my family off my back, and this guy is volunteering. I take him up on it without asking his name.
I really should've asked for his name.
Lennon 
Word of advice: learn how to introduce yourself properly.
In my defense, I don't recognize Ollie Strömberg right away. I cover football, not hockey.
I'm not supposed to see him again, and he's never supposed to find out I'm a reporter.
That all changes when my editor reassigns me.
It's a lesson I should've learned by now. Nothing's changed since high school. Jocks still hate nerds. But even worse, athletes hate journalists. Especially ones who know their secret.
*Deke is a full-length MM novel with a HFN/HEA and no cliffhanger*