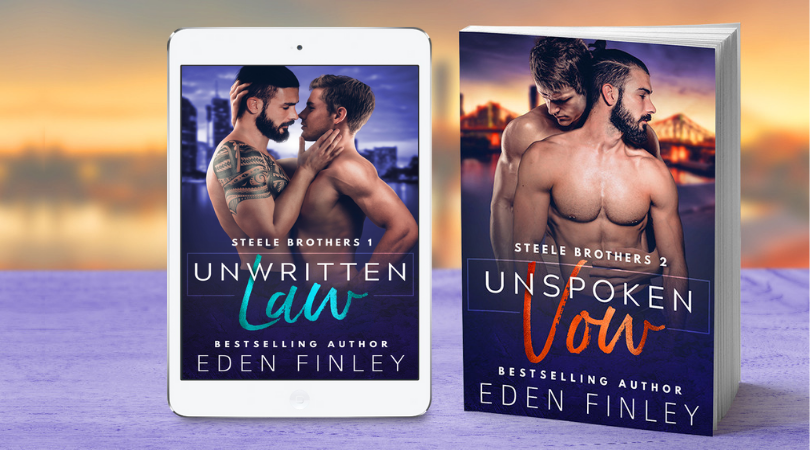 Unwritten Law
Steele Brothers Book One
Being an identical twin doesn't come without issues. 
No one can tell us apart, not even our parents sometimes. We don't usually use that to our advantage, but it comes in handy when my brother needs help breaking up with his boyfriends—which happens more than I'd care to admit. I know it's enabling him, but I can't say no to Anders. I will do anything for my twin. The breakups always go the same; they're swift and simple.
Until Reed.
He's everything I've fantasised about but never allowed myself to have. When I give in to temptation and begin to freak out, it's not because he's a guy. It's because he thinks I'm my brother, and I can't bring myself to tell him the truth.
**Unwritten Law is a 52,000 word stand alone with a HFN/HEA guarantee and no cliffhanger. It contains a mistaken identity trope. Please check trigger warnings in the front matter.**
Unspoken Vow
STEELE BROTHERS BOOK TWO
He's everything I want but run away from.
There's a long list of things I don't handle well:
Change.
Relationships.
Breakups.
But there's one person above everything else I can't seem to get a handle on.
Brody Wallace.
In short, he's perfect. The reality, he scares me.He's the opposite of what I usually go for. He's bigger. Intimidating. He reminds me of someone I'd rather forget.
When I need to find a new place to live, Brody offers me his spare room, but I have no plans on taking him up on the offer. He doesn't know what happened to me five years ago, and I want to keep it that way.But with limited options, I find myself outside his apartment holding a full moving box and wondering: How can I do this without exposing the darkest part of my past?
**Unspoken Vow is a full-length MM romance with a HFN/HEA. It deals with mental illness. Please check trigger warnings in the front matter.**